La notizia gira già nel web da qualche giorno: Rai.tv ha finalmente deciso di aggiornare il proprio sito web rendendolo compatibile con le più svariate piattaforme (sistemi operativi e browser utilizzati) mettendo la parola fine alla miriade di problemi che da sempre affliggevano la sua presenza sul web.
Ciò vuol dire che anche con un Firefox installato su macchina Linux o Safari su OS X. Ciò è possibile grazie al massiccio utilizzo di Microsoft Silverlight, plugin nato in casa Microsoft per contrastare il predominio di Adobe Flash.
Nuova grafica quindi, player integrato, centinaia di contenuti liberamente fruibili. L'articolo nasce per spiegare la breve ma corretta procedura di installazione Silverlight su Mozilla Firefox con un sistema operativo XP (ma anche Vista o precedenti).
#1 cosa serve?
Nella pagina ufficiale del plugin sarà possibile scaricare il pacchetto di installazione che a sua volta riconoscerà i browser installati sulla macchina piazzando al loro interno la DLL che permetterà di utilizzare l'applicativo MS. La stessa azienda dichiara dei requisiti minimi di sistema che vado qui di seguito a includere: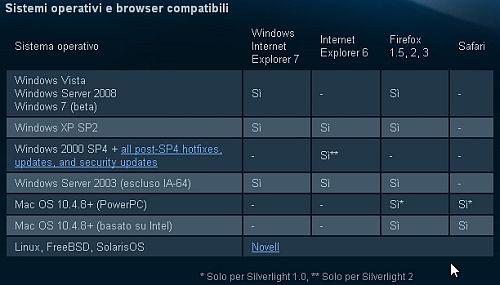 Se la vostra macchina possiede le caratteristiche richieste si potrà proseguire scaricando il pacchetto da 4,63 MB contenente tutto il necessario.
A questo punto:
chiudere Firefox e qualsiasi altro browser aperto
lanciare l'installazione del pacchetto, impiegherà circa 10 secondi per completare le operazioni
chiudere l'interfaccia di Silverlight e procedere con il test di funzionamento
#2 utilizzatore Linux? Passa a Moonlight!
Cito dal sito web ufficiale:
Moonlight is an open source implementation of Silverlight (http://silverlight.net), primarily for Linux and other Unix/X11 based operating systems. In September of 2007, Microsoft and Novell announced a technical collaboration that includes access to Microsoft's test suites for Silverlight and the distribution of a Media Pack for Linux users that will contain licensed media codecs for video and audio.
Potete quindi scaricare Moonlight gratuitamente da go-mono.com/moonlight, installarlo e godere dei contenuti Silverlight anche su PC con "pinguini a bordo" ;)
#3 controllare che tutto funzioni
Non resta quindi che riaprire Firefox, andare su Rai.tv e godersi lo spettacolo, proprio come nell'immagine qui di seguito :)
Per i più schizzinosi che vogliono sapere dove si trova la DLL "incriminata", Firefox restituisce queste informazioni nel pannello dei Componenti Aggiuntivi:
Quindi grazie Rai, grazie Microsoft Silverlight (che non avevo voluto installare fino ad ora, ndr), buona visione a voi che usufruirete dei contenuti della Radio Televisione Italiana ;)
Per problemi di funzionamento il suggerimento è sempre lo stesso, fatevi vivi sul forum di Mozilla Italia!
L'articolo potrebbe non essere aggiornato
Questo post è stato scritto più di 5 mesi fa, potrebbe non essere aggiornato. Per qualsiasi dubbio ti invito a lasciare un commento per chiedere ulteriori informazioni! :-)