Non lo vedi e senti anche tu? Alberi addobbati ovunque (in barba alla tradizione del più classico 8 dicembre), luci, musiche, varie ed eventuali, tutto ricorda la festività del Natale, che si sta avvicinando a grande velocità (ci separano solo 3 domeniche, non considerando questa già in corso e calcolando che il 25 cade proprio di domenica). Rispolvero il #4WeekendApps per scoprire qualche piccola chicca e festeggiare insieme almeno un po' :-)
Tutto pronto? Bene così, facciamo finta di lanciare il primo restart della piccola serie (si sa mai, magari continuo a ripeterla in futuro):
Di cosa si tratta?
4 settimane per 4 app (#4WeekendApps) è la classica iniziativa a tempo che ti propone un articolo leggero, adatto al sabato alla domenica (stavolta), alle tue letture da viaggio, senza l'abuso di quel povero neurone messo sotto torchio durante i giorni feriali passati in ufficio (o altrove, ma pur sempre #PerLavoro!).
Perché Android? Perché è il sistema operativo che utilizza il mio smartphone personale, che sfrutto principalmente, perché lo preferisco spesso a iOS. Questo non vuol dire che le applicazioni di cui ti parlo esistono solo su Play Store (anzi, tutto il contrario), vuol solo dire che immagini e riferimenti sono stati catturati da Android, #Gomblottoh!
Oggi ti parlo di: Ampere
Forse più per curiosità che per reale necessità (anche se nel mio caso è stata più per la seconda, nda), Ampere è una applicazione dal sapore semplice e intuitivo, ricca di dati che ti permettono di capire molto sul tuo cavo USB e sul tuo caricabatterie, soprattutto quando si parla di Quick Charge e necessità di ricarica fugace, quella che ci permette di portare lo smartphone vivo a casa, dove potrà poi terminare il suo accumulo di energia utile al prossimo giorno da affrontare.
Did you ever felt, that one Charger/USB cable set charges your device really fast and the other not? Now, you can prove this with Ampere.

Measure the charging and discharging current of your battery.
Ampere non fa altro che fornire ogni misurazione valida per capire se il caricabatterie in uso sta facendo il suo lavoro, se è davvero di tipo Quick Charge, se magari sta cedendo o se "tiene ancora botta", è persino in grado di fare misurazione quando il dispositivo non è collegato alla corrente, così da capire quanto rapidamente si sta scaricando, per una previsione sul prossimo ciclo di ricarica. L'applicazione è gratuita, ha il solito banner pubblicitario a fondo schermata, puoi eliminarlo sbloccando l'acquisto in-app se proprio non lo sopporti. Lo trovi su Play Store e App Store:
La maggior parte dei dati riguardanti l'applicazione, note d'uso e informazioni (comprese incompatibilità e problemi conosciuti) si trovano nelle informazioni dell'applicazione su Play Store, ti consiglio quindi di dare un'occhiata alla pagina disponibile su play.google.com/store/apps/details?id=com.gombosdev.ampere.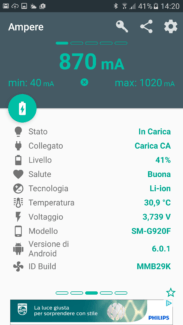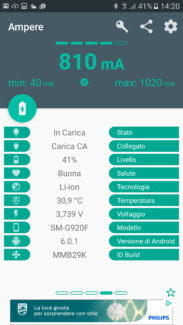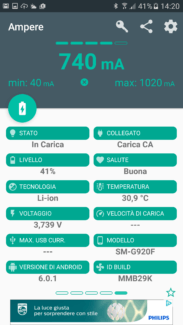 Puoi scegliere la schermata preferita da mostrare all'apertura dell'applicazione e puoi dare un'occhiata -quando serve- alle misurazioni rilevate. È logico che un'applicazione di questo tipo non può avere altri usi se non quelli relativi al dare risposte alla tua curiosità. Al solito: per suggerimenti, commenti e alternative (anche metodi particolari per la misurazione o hardware che esula da applicazioni installabili sul proprio smartphone), l'area commenti è a tua totale disposizione.
Buon fine settimana ;-)
G
L'articolo potrebbe non essere aggiornato
Questo post è stato scritto più di 5 mesi fa, potrebbe non essere aggiornato. Per qualsiasi dubbio ti invito a lasciare un commento per chiedere ulteriori informazioni! :-)