Un post tecnico a metà tra il promemoria e la divulgazione di un workaround, dedicato a chi utilizza Dropbox e lavora nelle reti che usano proxy con autenticazione NTLM. La risoluzione di un problema dovuto ad una momentanea mancanza del noto applicativo di sincronizzazione / backup dei propri dati personali tra le postazioni possedute e il server centrale che conserva le copie per il versioning.
In sintesi, di cosa si tratta:
Windows Challenge/Response (NTLM) is the authentication protocol used on networks that include systems running the Windows operating system and on stand-alone systems.

The Microsoft Kerberos security package adds greater security than NTLM to systems on a network. Although Microsoft Kerberos is the protocol of choice, NTLM is still supported. NTLM must also be used for logon authentication on stand-alone systems. For more information about Kerberos, see Microsoft Kerberos.

NTLM credentials are based on data obtained during the interactive logon process and consist of a domain name, a user name, and a one-way hash of the user's password. NTLM uses an encrypted challenge/response protocol to authenticate a user without sending the user's password over the wire. Instead, the system requesting authentication must perform a calculation that proves it has access to the secured NTLM credentials.

Interactive NTLM authentication over a network typically involves two systems: a client system, where the user is requesting authentication, and a domain controller, where information related to the user's password is kept. Noninteractive authentication, which may be required to permit an already logged-on user to access a resource such as a server application, typically involves three systems: a client, a server, and a domain controller that does the authentication calculations on behalf of the server.
Per capirci: l'autenticazione NTLM è alla base degli appliance Sophos (serie WS), evidentemente non troppo permissiva per coloro che vogliono utilizzare Dropbox e possono accedere alla rete internet solo attraverso le proprie credenziali di dominio.
Oltre ad attendere che il team di sviluppo faccia lo sporco lavoro di rendere compatibile il protocollo con il passaggio delle credenziali impostate manualmente nelle preferenze (tanto per azzardare un'ipotesi) esiste un workaround dichiarato anche nelle FAQ pubblicate nel sito ufficiale del prodotto:
La parola magica è "Cntlm" e permette di far combaciare le richieste dell'applicativo e dell'autenticazione NTLM mettendosi in mezzo tra i due (come a creare un nuovo proxy da far sfruttare a Dropbox). Configurarlo e utilizzarlo è semplicissimo, scaricarlo è completamente gratuito, il progetto risiede su SourceForge:
Potete scaricare l'applicativo per Windows, Linux o MacOS. Io baserò il mio documento sul primo sistema (quello che uso sul portatile aziendale). Basterà scaricare CNTLM cliccando qui (qui per tutti gli altri sistemi), scompattarlo in una qualsiasi cartella del vostro HD e avviare il file "setup.bat". Questo copierà alcuni file nel sistema e creerà il servizio "Cntlm Authentication Proxy", che sarà visibile semplicemente aprendo la finestra dei servizi della macchina (Start / Esegui / services.msc), come in figura:
Prima di poter avviare il servizio sarà però necessario configurare le proprie credenziali in un file INI contenuto nella cartella del programma. Lo trovate in C:\Programmi\Cntlm, file cntlm.ini. Basterà inserire lo username, la password ed il dominio, specificare l'indirizzo IP (o il nome) del proxy aziendale, scegliere una porta del sistema locale dove far puntare poi Dropbox e salvare. Uscire quindi dal file per concludere l'operazione:
Fatto ciò si potrà avviare CNTLM per poter lavorare con Dropbox. Basterà aprire un prompt di MS-DOS e lanciare la stringa "net start cntlm", come in figura:
Fatto questo basterà far passare la comunicazione Dropbox (client / server) dal PC locale che sarà utilizzato come proxy. Andare nelle impostazioni del client (tasto destro sull'icona nella tray, Preferences) ed inserire manualmente le informazioni, come in figura (occhio alla porta se l'avete modificata nel file di configurazione di CNTLM):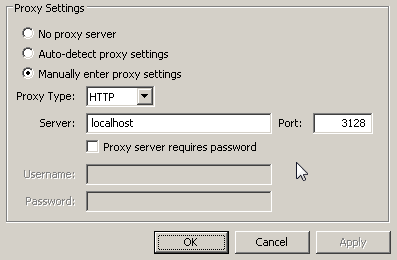 Così facendo spunterà fuori l'icona attività di Dropbox e i vostri documenti ricominceranno a sincronizzarsi con il server e con le altre postazioni che sfruttano lo stesso account! Va da se che per poter bloccare il servizio basterà lanciare la stringa "net stop cntlm", sempre utilizzando il prompt dei comandi:
Mi pare non manchi proprio nulla a questo punto. Per dubbi e perplessità –come sempre– c'è l'area commenti.
Buon lavoro! :-)
L'articolo potrebbe non essere aggiornato
Questo post è stato scritto più di 5 mesi fa, potrebbe non essere aggiornato. Per qualsiasi dubbio ti invito a lasciare un commento per chiedere ulteriori informazioni! :-)