C'è un vecchio ma sempre funzionante Windows 7 con Microsoft Office 365 ProPlus a bordo (quindi in versione 2016/2019 in base al ramo d'aggiornamento scelto, NdR) che dallo scorso agosto mostra di tanto in tanto un errore relativo a Microsoft Office SDX Helper, un processo che parte dall'applicazione sdxhelper.exe e che smette di funzionare rompendo le scatole all'utilizzatore che se lo ritrova davanti ripetutamente, con la sola possibilità di cercare una soluzione o chiudere quel messaggio.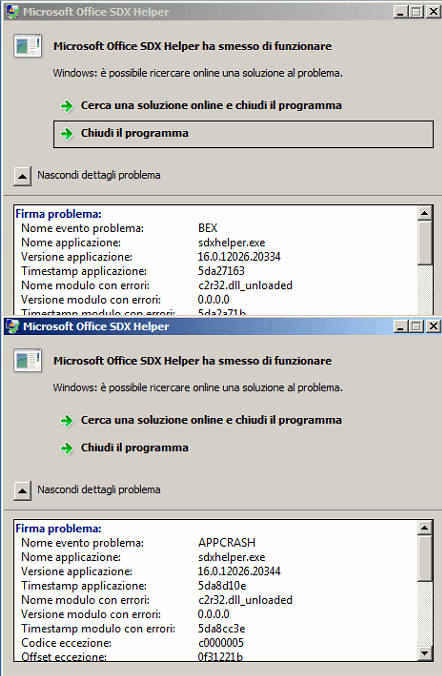 Nome dell'applicazione che ha generato l'errore: sdxhelper.exe, versione: 16.0.12026.20264, timestamp: 0x5d8bdcc2
Nome del modulo che ha generato l'errore: c2r32.dll_unloaded, versione: 0.0.0.0, timestamp: 0x5d8bdd3b
Codice eccezione: 0xc0000005
Offset errore 0x0f1421f6
ID processo che ha generato l'errore: 0xb74
Ora di avvio dell'applicazione che ha generato l'errore: 0x01d57d277ea51f84
Percorso dell'applicazione che ha generato l'errore: C:\Program Files\Microsoft Office\root\Office16\sdxhelper.exe
Percorso del modulo che ha generato l'errore: c2r32.dll
ID segnalazione: b125c9e0-e91f-11e9-8a15-002564f37c87
Microsoft Office SDX Helper
The Microsoft Office SDXHelper is connected to a secure download manager, which is used to download/update Microsoft Office (fonte). La verità è che per scaricare o aggiornare Microsoft Office basta e avanza il Click2Run e seppur questo non dovesse svegliarsi quando necessario, basterà andare manualmente nelle opzioni Account di una qualsiasi applicazione di Office installata su Windows per far partire il controllo degli aggiornamenti e scaricarli se presenti.
Il processo di SDX Helper ha cominciato ad andare in crash in seguito agli aggiornamenti di Windows 7 lo scorso agosto e – chi prima, chi dopo – una marea di utenti hanno cominciato a lamentare lo stesso identico problema di crash che si risolve esclusivamente riparando in maniera completa l'installazione di Microsoft Office (da Pannello di controllo). Nel caso in cui però tu non possa fare questa operazione nel momento in cui l'utente lamenta l'anomalia dovrai necessariamente metterci una pezza in attesa di definitiva risoluzione. Per farlo ti basterà bloccare due operazioni pianificate che Office crea autonomamente su Windows.
Due i comandi necessari da eseguire da Prompt e un invio, null'altro:
Attento però: entrambe le operazioni verranno riattivate da Microsoft Office quando questo si accorgerà che saranno disabilitate (fa un check di tanto in tanto), è per questo motivo che ti invito a salvare quelle due righe di codice poco sopra in un file batch (.bat) che potrai far eseguire alle operazioni pianificate di Windows ogni 6 ore. Se invece hai tempo e modo di intervenire subito sul problema ti basterà riparare completamente l'installazione di Microsoft Office (non la riparazione in locale rapida, ti servirà quella completa da far eseguire scaricando il necessario dai server Microsoft, quindi la online).
Buon lavoro ?
---
L'articolo potrebbe non essere aggiornato
Questo post è stato scritto più di 5 mesi fa, potrebbe non essere aggiornato. Per qualsiasi dubbio ti invito a lasciare un commento per chiedere ulteriori informazioni! :-)
Le pillole sono articoli di veloce lettura dedicati a notizie, script o qualsiasi altra cosa possa essere "divorata e messa in pratica" con poco. Uno spazio del blog riservato agli articoli "a bruciapelo"!
Se vuoi leggere le altre pillole fai clic qui.