Per motivi che non sto qui a snocciolare più del dovuto (che non c'è bisogno di asciugarti sempre) sto aiutando gli utenti del Gruppo per cui lavoro a spostare e riorganizzare grandi quantità di dati da un punto A a un punto B. Per farlo mi sto servendo di una buona macchina virtuale Windows (una 2019 virtuale in Data Center) che sta sopportando e supportando ogni spostamento mettendosi a metà strada tra i due punti e velocizzando di molto le operazioni. Sto utilizzando una serie di strumenti e utilità che ho imparato a scoprire (per la prima volta o meglio rispetto a quanto le conoscessi in passato) e apprezzare, te ne voglio parlare molto rapidamente (e in alcuni casi lasciarti anche degli utili riferimenti aggiuntivi), magari ti torna utile.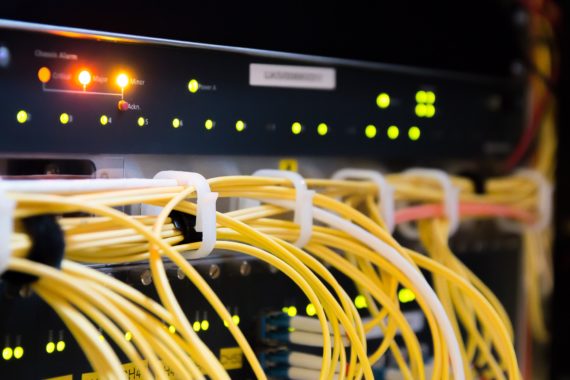 Applicazioni
Sono solito utilizzare molto la riga di comando e agire da remoto sulle macchine che mi sono necessarie, in questo specifico caso però mi sono affidato pressoché totalmente a interfacce grafiche che possono essere mostrate anche a degli utenti a mezzo Zoom o equivalente, facendo condivisione dello schermo, mostrando quindi qualcosa che sono in grado di capire tutti (quei tutti devono aiutarmi a capire cosa muovere, cosa archiviare, ecc., quindi è fondamentale non mettere in difficoltà nessuno). La lista delle applicazioni che ti ho proposto sopra va in qualche maniera a completare ciò che Windows propone e fa già, talvolta innalzando il livello qualitativo dell'operazione da eseguire o da velocizzare (o magari da lasciare lì e dimenticarsene fino a quando non è terminata e che poco importa a me o all'utente finale).
Scendo un po' di più nel dettaglio e ti invito a commentare l'articolo per qualsiasi dubbio o necessità di ulteriore informazione.
FastCopy
Interfaccia abbastanza spartana ma la sostanza c'è tutta. Data una o più cartelle sorgenti che puoi trascinare (drag and drop) nel box Source, specifichi una cartella di destinazione (DestDir) e compi operazioni molto banali ma che in alcuni casi mettono in difficoltà la funzione nativa Explorer di Windows: copia, sposta, cancella, copia/sposta solo se i file differiscono, sincronizza e altro ancora. Punto fondamentale a favore di FastCopy è che – come Robocopy – se ne frega dei nomi troppo lunghi o di quei file apparentemente bloccati e non cancellabili o spostabili. È un po' una scure che affonda senza farsi troppe domande e in base al buffer specificato sa muovere più o meno file alla volta. Grandi carichi di lavoro dati in pasto a FastCopy vanno da zero a cento mentre tu porti a termine altro, sono processi che puoi lasciare lì e dimenticartene, tornando a verificare anche dopo ore se "tutto è andato a posto" (no, a meno di errori umani è difficile trovare danni fatti).
Il mio consiglio è quello di fare un giro nelle opzioni di FastCopy e configurare in maniera personalizzata ciò che ti interessa anche in base all'hardware a disposizione. Il software è solo in inglese (ma dubito che per te sia un problema) e si scarica gratuitamente da fastcopy.jp/en. Ha una funzione di aggiornamento automatico anche quando usato in modalità Portable (quella che sto usando anche io) e può essere integrato con la l'estensione della Shell, vuol dire che puoi inserire le voci d'utilizzo FastCopy anche nel classico "tasto destro del mouse".
RcloneBrowser
Di rclone se n'è già parlato tempo fa (RPi: sincronizzazione dei file tra locale e Cloud con rclone, Copia dati in bulk tra servizi Cloud con rclone e macOS: è guerra tra Dropbox e i link simbolici, come aggirare l'ostacolo?). RcloneBrowser è – con molta poca fantasia e tanto rigore – un'interfaccia grafica che modella rclone e lo trasforma in qualcosa di utilizzabile da chiunque. Una finestra, gli account Cloud configurati, la possibilità del drag and drop e altro ancora. Nonostante il progetto originale sia stato abbandonato qualche anno fa, il fork disponibile su github.com/kapitainsky/RcloneBrowser viene ancora mantenuto, corretto e rilasciato (la versione 1.8.0 è di febbraio).
Torna attualmente comodo per spostare grandi dati su Dropbox o Amazon S3 (e non solo) permettendo di tradurre ciò che solitamente è riga di comando in movimenti del mouse e interventi da tastiera. Puoi "quasi dimenticare" la documentazione ufficiale di progetto (sempre disponibile su rclone.org/docs) ma il consiglio che ti do è quello di modificare le impostazioni di RcloneBrowser affinché rispetti determinate direttive che sei solito utilizzare da riga di comando (tipo la cancellazione dei file esclusi, timeout modificati, log, ecc.).
SpaceSniffer
Uso da una vita TreeSize nella sua versione gratuita e anche WinDirStat. Sono entrambi software molto validi, veloci e che portano immediatamente al risultato quando ho bisogno di capire chi sta occupando cosa all'interno di un disco fisso o una particolare cartella. Quello che SpaceSniffer mi ha permesso di fare rispetto agli altri due software è stato esportare l'analisi in un comodo file di testo organizzato con i dettagli che voglio io e che mi servono per poter eventualmente mostrare quei dati a mezzo posta elettronica o chat, in maniera semplice e immediata.
Oltre a ciò SpaceSniffer è in grado di mostrare pressoché tutta la nidificazione delle varie cartelle e sottocartelle ma è anche in grado di alleggerire la rappresentazione grafica a video per evitare che sia troppo complessa da analizzare a "occhio nudo".
First Level Folders
Condivido con te il file XML per esportare l'analisi su file di testo che riporta le informazioni di "primo livello": cartella principale e occupazione specificata in gigabyte:
<?xml version="1.0" encoding="UTF-8"?>
<exportConfig version="2">&#xD;
<description>First level folders</description>&#xD;
<preferredFileName>First level</preferredFileName>&#xD;
<preferredFileExtension>Text file (*.txt)|*.txt</preferredFileExtension>&#xD;
<description>First level folders</description>&#xD;
<headerFormat></headerFormat>&#xD;
<detailFormat>e3NjcmlwdH0NCnsgICBpZiB7PCVuZXN0aW5nbGV2ZWwlPn0gPT0gezF9DQogID8geyAgIGlm&#xD;
IHs8JWlzZm9sZGVyJT59ID09IHt0cnVlfQ0KICAgICAgPyB7eyZicn08JXBhdGhmaWxlJT4g&#xD;
WzwlZGlza3NpemUlPl17JmJyfX0NCiAgICB9DQp9</detailFormat>&#xD;
<footerFormat></footerFormat>&#xD;
<blockSorting>folders</blockSorting>&#xD;
<fineSorting>size</fineSorting>&#xD;
<fineSortingDirection>desc</fineSortingDirection>&#xD;
</exportConfig>
Il file è già pronto da scaricare (e importare successivamente in SpaceSniffer) all'indirizzo go.gioxx.org/spacesniffer-firstlevel. Per poter integrare questo template d'esportazione all'interno del tuo SpaceSniffer lancia un'analisi (qualsiasi, anche di una singola cartella) e vai su File → Export to file. Fai clic sull'icona a forma di chiave inglese (Edit configuration) e quindi su Import configuration from file: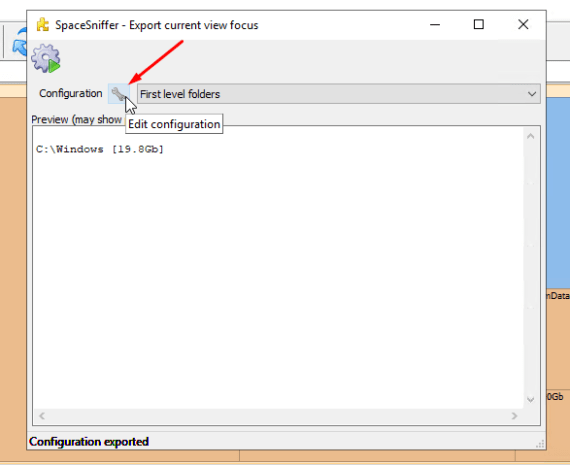 Dagli in pasto il file XML che ti ho proposto poco sopra e sarai così pronto a esportare il dettaglio testuale completo di spazio occupato senza ulteriori "fronzoli".
Thumbnail Database Cleaner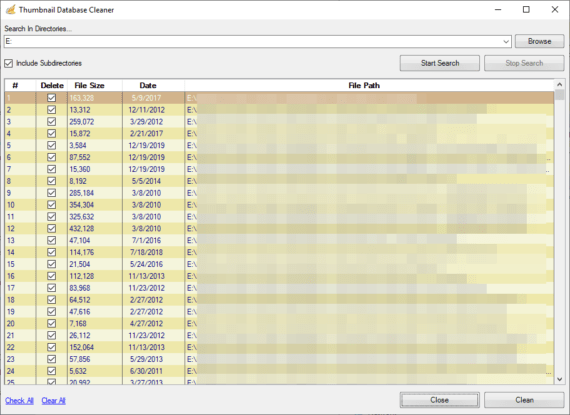 Tanto banale quanto il titolo di questo paragrafo (che è poi il nome del software stesso). Tempo fa mi ero scritto un piccolo batch che scandagliava ogni cartella e sottocartella del PC alla ricerca dei file Thumbs.db di Microsoft. Se non sai di cosa sto parlando ti consiglio di puntare il browser all'indirizzo en.wikipedia.org/wiki/Windows_thumbnail_cache. Disponibile all'indirizzo itsamples.com/thumbnail-database-cleaner.html, Thumbnail Database Cleaner non necessita di installazione, puoi avviarlo, dargli una cartella di partenza (lui controllerà anche le sottocartelle se spunti l'opzione Include Subdirectories) e lanciare la scansione con Start Search.
A scansione terminata potrai dare un'occhiata a tutti i Thumbs.db trovati e cancellarli con un clic su Clean. È solo questione di pulizia, nessuno ti obbliga a farla ma l'utility mi è tornata utile di tanto in tanto.
Il codice sorgente di Thumbnail Database Cleaner è scritto in C# ed è pubblicamente disponibile all'indirizzo itsamples.com/downloads/thumbnail-database-cleaner-src.zip.
WinMerge
Un piccolo grande coltellino svizzero per mettere a confronto cartelle e file. Fondamentale quando i dati risiedono magari in più punti e non serve tenerne più copie (soprattutto quando alcune di queste sono rimaste indietro rispetto a quelle più aggiornate), ancora più vitale quando differenti team di lavoro operano su file che sarebbero dovuti essere condivisi ma che in realtà non lo sono. WinMerge è IL programma da avere a portata di mano.Quello che devi fare è scaricare l'applicazione (io uso la versione Portable che non necessita di installazione) e iniziare a prendere confidenza con il confronto tra "Sinistra" e "Destra", visualizzazioni, comandi da lanciare su uno dei due lati, ecc.
Temporary Files (Filter)
Nel frattempo, dato che ho dovuto lavorare anche su vecchie documentazioni da mantenere in vita, ho messo mano a un file di filtro costruito ad-hoc per escludere i database Thumbs.db di Windows e i .DS_Store di macOS, i file .bak e .tmp e tutti i file temporanei creati da Microsoft Office (e vale per tutti i programmi della suite Office, da Word a Excel passando per PowerPoint e per Access). Questo è il codice del file di filtro:
## This is a directory/file filter template for WinMerge
## GSolone 2020 (mod. 17/3/2020) - https://gioxx.org
## Credits:
##	http://forums.winmerge.org/viewtopic.php?f=4&t=1579
##	https://sourceforge.net/projects/regexcreator/
##	https://stackoverflow.com/posts/9655203/revisions
##	https://stackoverflow.com/posts/5908226/revisions
##	https://superuser.com/posts/890151/revisions

name: Temporary Files 0.2 (Gioxx.org)
desc: Exclude Thumbs.db, *.tmp, *.bak, macOS DS_Store and MS Office temporary files

## Select if filter is inclusive or exclusive
## Inclusive (loose) filter lets through all items not matching rules
## Exclusive filter lets through only items that match to rule
## include or exclude
def: include

## Filters for filenames begin with f:
## Filters for directories begin with d:
## (Inline comments begin with " ##" and extend to the end of the line)

f: thumbs.db 	## Exclude thumbnails files.
f: \.tmp$ 	## Exclude temporary files.
f: \.bak$ 	## Exclude backup files.
f: .DS_Store	## Exclude macOS custom attributes files.

## List of Microsoft Office filename extensions
##	https://en.wikipedia.org/wiki/List_of_Microsoft_Office_filename_extensions

f: (~\$)+.+(.doc|.dot|.wbk|.docx|.docm|.dotx|.dotm|.docb)(?i)					## MS Word
f: (~\$)+.+(.xls|.xlt|.xlm|.xlsx|.xlsm|.xltx|.xltm)(?i)						## MS Excel
f: (~\$)+.+(.ppt|.pot|.pps|.pptx|.pptm|.potx|.potm|.ppam|.ppsx|.ppsm|.sldx|.sldm)(?i)	        ## MS PowerPoint
f: (~\$)+.+(.accdb|.accde|.accdt|.accdr)(?i)							## MS Access
f: (~\$)+.+(.pub)(?i)										## MS Publisher
f: (~\$)+.+(.xps)(?i)										## XPS
Trovi il file già pronto da scaricare all'indirizzo go.gioxx.org/winmerge-thumbs. Per caricarlo in WinMerge puoi inserirlo nella cartella "Filters" del programma (se hai già aperto WinMerge dovrai riavviarlo) oppure installarlo da interfaccia grafica quando ti trovi nella schermata di confronto cartelle: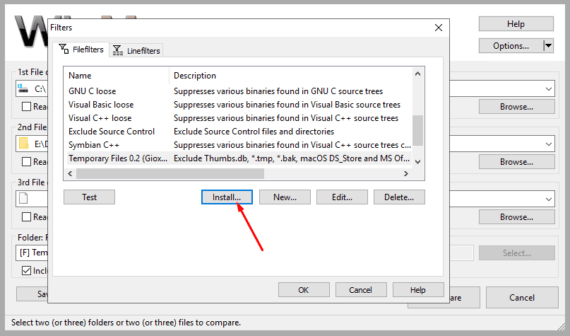 A quel punto ti basterà selezionare il filtro da applicare (e fare clic su OK) prima di lanciare il Compare: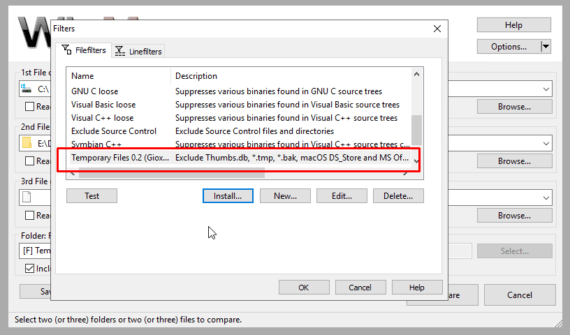 Il gioco è fatto, ora WinMerge ignorerà ogni file escluso dal mio filtro.
In conclusione
Un po' blocco appunti, un po' condivisione di trucchi e metodi come da abitudine su questo blog, spero di averti dato qualche buono spunto per un tuo lavoro o necessità. L'area commenti come sai è sempre a totale disposizione per ogni ulteriore suggerimento o discussione.
#StaySafe
L'articolo potrebbe non essere aggiornato
Questo post è stato scritto più di 5 mesi fa, potrebbe non essere aggiornato. Per qualsiasi dubbio ti invito a lasciare un commento per chiedere ulteriori informazioni! :-)