Per qualche tempo ho avuto un problema sul mio laptop ogni volta che lavoravo da casa, connesso al mio router via WiFi e con la VPN attiva che mi permetteva di raggiungere tutte le risorse aziendali, scoprendo successivamente che non era solo un problema del sottoscritto, quale migliore occasione per metterci quindi la pezza? L'icona con il simbolo del WiFi nella tray del sistema operativo (vicino all'orologio in basso a destra, per i meno avvezzi) segnalava la disconnessione dalla rete Internet, in maniera quasi casuale, almeno una volta al giorno, anche più in alcune giornate.
Le ricerche hanno portato a questioni già dibattute più volte nei forum Microsoft (e non solo) e – scopro – collegate a una particolare configurazione dei client VPN (tra cui il Cisco AnyConnect utilizzato in azienda). Un esempio pratico si trova all'indirizzo docs.microsoft.com/en-us/answers/questions/124300/still-not-fix-no-internet-connection-bug-in-window.html. A nulla serve sottolineare che si parla di versioni di Windows 10 abbondantemente superate, il problema si presentava su una 21 H2 che non ha poi molto a che fare con l'anziana 2004 del thread.
Specify global DNS
Alcune verifiche (con conseguenti conferme) hanno portato alla conclusione che far passare le richieste DNS dalla VPN aziendale (per svariati motivi che non stiamo qui a discutere) andava a superare in priorità la risposta del router utilizzata per un check che Windows effettua per determinare se la macchina è correttamente connessa a Internet o meno, un comportamento assolutamente standard del SO di Microsoft ormai da tempo.
E se il fatto di pensare di essere "disconnesso dal web" non disturba affatto alcune applicazioni che lavorano con la connettività Internet e che se ne fregano di quel check (provando loro stesse a raggiungere gli IP di destinazione e continuando a lavorare correttamente), per altre non va esattamente così, ed è il motivo per il quale applicazioni come Dropbox o Spotify (la prima più importante dell'altra quando si tratta di raggiungere file aziendali, me ne rendo conto) smettono di funzionare pensando di non avere davvero quella connessione per loro fondamentale. Ce ne sono altre di applicazioni e servizi che assumono il loro stesso comportamento, il mio è giusto un esempio.
Descritto sul sempre utilissimo ADMX Help all'indirizzo admx.help/?Category=Windows_10_2016&Policy=Microsoft.Policies.NCSI::NCSI_GlobalDns, this policy setting enables you to specify DNS binding behavior. NCSI by default will restrict DNS lookups to the interface it is currently probing on. If you enable this setting, NCSI will allow the DNS lookups to happen on any interface, permettendo così di risolvere determinati indirizzi Microsoft anche tramite il router casalingo e permettere così al sistema di rendersi conto che sì, è correttamente connesso alla rete Internet.
Ringrazio i ragazzi del supporto di Elmec per aver trovato una soluzione che evidentemente mi / ci era sfuggita durante le prime ricerche e analisi effettuate.
GPO
Dalla tua console naviga in Computer Configuration → Administrative Templates → Network → Network Connectivity Status Indicator. L'impostazione predefinita (Not Configured) prevede che la risoluzione dei nomi a dominio venga portata a termine solo dalla scheda di rete che in quel momento comanda sulle altre (in pratica, analizzando il mio caso, era quella della VPN aziendale).
Dovrai attivare la GPO e spuntare l'opzione "Specify Global DNS" (o "Utilizzare DNS globale" in italiano) per permetterle di funzionare e risolvere l'anomalia.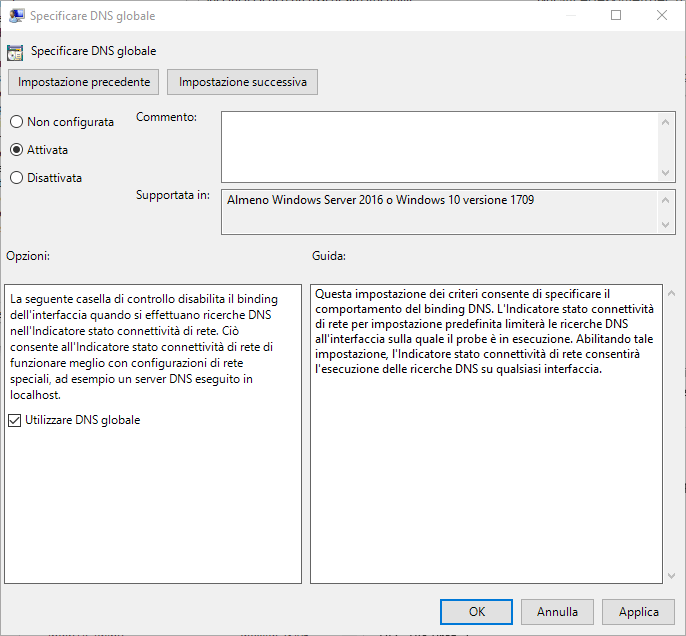 Registro di Sistema
Applicabile sempre e comunque, sia a client aziendali che privati, in dominio e non. Quanto spiegato poco sopra (GPO) equivale a una chiave di registro ben precisa:
HKEY_LOCAL_MACHINE\Software\Policies\Microsoft\Windows\NetworkConnectivityStatusIndicator\UseGlobalDns
Un valore DWORD (32 bit) che dovrà essere impostato a 1. Va da sé che, nel caso in cui tu voglia tornare alla situazione precedente, bisognerà riportare il valore a 0 (o rimuoverlo se precedentemente neanche c'era e lo hai dovuto creare tu da zero). Ti consiglio un riavvio macchina per verificare poi che tutto funzioni correttamente e che la modifica abbia così avuto effetto.
In caso di dubbi relativi a questo articolo specifico l'area commenti è sempre a tua disposizione :-)
#StaySafe
---
L'articolo potrebbe non essere aggiornato
Questo post è stato scritto più di 5 mesi fa, potrebbe non essere aggiornato. Per qualsiasi dubbio ti invito a lasciare un commento per chiedere ulteriori informazioni! :-)