Avevo provato a darti qualche rapida e semplice nozione di VPN in un vecchio articolo del 2019 (VPN: cos'è? Serve davvero utilizzarne una?), ho ripreso l'argomento quando ho parlato di PiVPN (WireGuard) su Raspberry Pi (Raspberry Pi: installare e configurare WireGuard con PiVPN) e ancora oggi posso dirti che utilizzo il software di Jason A. Donenfeld con estrema soddisfazione, dopo aver sostituito in ogni dove OpenVPN tradizionale (non c'è proprio paragone tra le due). Questo mi serve per poter sfruttare i servizi casalinghi anche quando non mi trovo sotto la LAN/WiFi di casa, raggiungere il NAS, il RPi, ecc. Allora perché Tailscale?
Perché Tailscale prende il concetto di WireGuard e ne fa la Zero Configuration (e aggiungere anche Knowledge) VPN per eccellenza, chiavi in mano per chiunque, anche di chi non ha il benché minimo background tecnico (il tempo e le risorse) per permettersi di mettere in piedi un servizio VPN che metta in comunicazione costante i propri dispositivi appoggiandosi alla connettività di casa propria (o dell'ufficio, non c'è limite se non quello legato al prezzo e ai dispositivi massimi utilizzabili).
Tailscale
Tailscale is a VPN service that makes the devices and applications you own accessible anywhere in the world, securely and effortlessly. It enables encrypted point-to-point connections using the open source WireGuard protocol, which means only devices on your private network can communicate with each other.
A farla molto semplice: installando il client di Tailscale sui tuoi dispositivi potrai raggiungerli ovunque ti trovi ammesso che questi siano operativi e online. Che si tratti del tuo PC Windows (Linux / macOS), il NAS, il Raspberry Pi o lo smartphone Android o iOS poco importa. Non importa neanche se hai un IP pubblico o chissà cos'altro, Tailscale è fatto apposta per scavalcare queste difficoltà che spesso caratterizzano le connessioni private e/o quelle aziendali particolarmente blindate.
La versione gratuita del servizio (sì, esiste) mette a disposizione "20 posti a sedere" (20 dispositivi che puoi connettere tra di loro), un utente (che sarà anche l'amministratore del tenant) e una serie di servizi opzionali che ad alcuni torneranno estremamente utili nella quotidianità, come il MagicDNS o il nodo d'uscita che ti permette di incanalare tutto il traffico passando per uno dei dispositivi connessi a Tailscale (immagina banalmente di voler navigare su Internet dall'estero e passare dal tuo PC di casa, dal suo IP, come se tu ti trovassi fisicamente lì). Prezzi, limitazioni e optional annessi si trovano nella pagina del listino ufficiale sul sito web del software.
Ti stai chiedendo come si faccia a mantenere in vita un servizio anche per coloro che sfruttano l'offerta gratuita? È una domanda alla quale è stata data risposta ufficiale qualche tempo fa, sul blog di Tailscale: tailscale.com/blog/free-plan:
TL;DR: Tailscale's free plan is free because we keep our scaling costs low relative to typical SaaS companies. We care about privacy, so unlike some other freemium models, you and your data are not the product. Rather, increased word-of-mouth from free plans sells the more valuable corporate plans. I know, it sounds too good to be true.
Bastano una manciata di minuti per installare il client su almeno due dispositivi a tua scelta (altrimenti non avrebbe alcun senso creare una VPN), e da quel momento uno vedrà l'altro e potrai accedere le risorse di entrambi ovunque ti trovi. In questo momento, il mio laptop aziendale (Windows) mi permette di accedere il mio NAS Synology e il mio Raspberry Pi via Internet, fisicamente distanti, senza la minima difficoltà e senza neanche scomodare il mio client WireGuard. Volendo potrei fare la stessa cosa attivando il tunnel VPN sullo smartphone Android e / o su iPhone.
Queste catture schermo di seguito ormai appartengono a qualche tempo fa, alla prima installazione e configurazione di Tailscale. Si tratta di una procedura guidata che rende ancora più semplice "l'imbarco" quando ci si iscrive per la prima volta al servizio: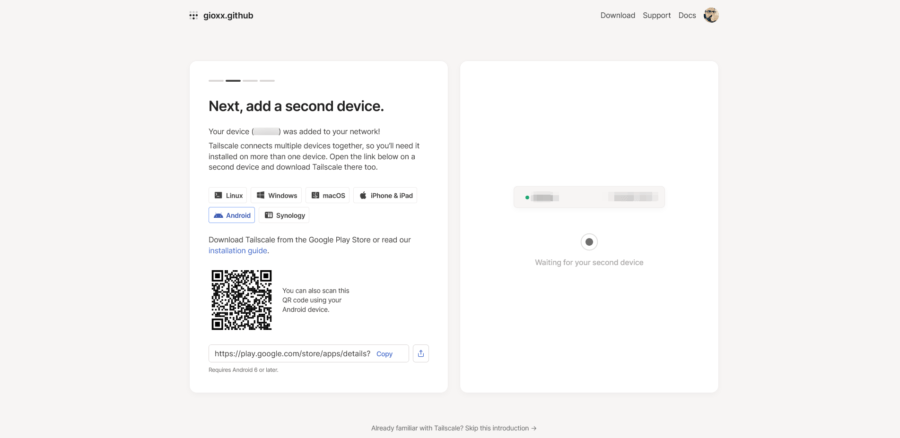 Tailscale su Smartphone e NAS
Possibile rispettivamente tramite gli Store di Apple e di Google e con un pacchetto ufficiale disponibile nello store di Synology. Anche in questo caso si tratta di scaricare il client e collegarsi utilizzando il proprio utente (nel mio caso quello di GitHub, ma tu puoi scegliere tra le alternative proposte nativamente), al resto ci penserà Tailscale, tu non dovrai ritoccare nulla (a meno di voler andare a bloccare la scadenza della sessione e poche altre cose).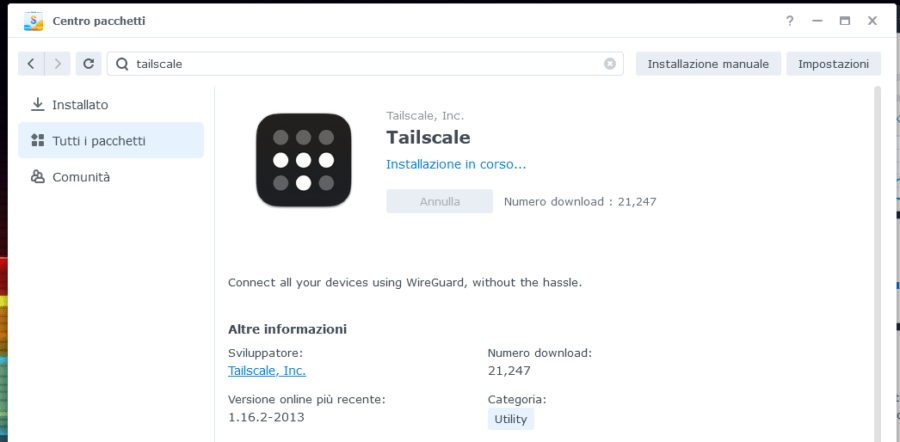 Tailscale, in conclusione
Si tratta di un software che migliora qualcosa di già esistente, rende ancora più accessibile WireGuard per qualsiasi tipo di utente si trovi dall'altro lato del monitor. Che io ricordi, almeno fino a oggi, nessun altro aveva mai proposto di creare una VPN in un paio di clic o giù di lì, Tailscale lo fa e ci ricama sopra anche un business che strizza l'occhio a team e grandi aziende che non vogliono perdere tempo portandosi tutto in casa.
Funziona, è veloce, è semplice da capire e amministrare, è – che non guasta mai – disponibile su GitHub all'indirizzo github.com/tailscale e fa dell'essere open una filosofia di vita anche attraverso strumenti come il blog ufficiale e i canali social (io li seguo anche su Twitter).
C'è ben più di quanto ho scritto qui sopra, ma la mia voleva essere solo un'introduzione a uno strumento evidentemente pensato per facilitare la vita a chiunque, sia esso privato o parte di un team aziendale che è interessato a una VPN "di nuova generazione", gestita e poco da gestire.
Gli sviluppatori di Tailscale introducono spesso nuove funzioni (senza mai dimenticarsi di quelle già presenti) e sì, esistono anche alternative per chi proprio non vuole fare a meno di costruire la propria rete e amministrarla in prima persona. Un esempio pratico da tenere d'occhio e provare potrebbe essere headscale che è "an open source, self-hosted implementation of the Tailscale control server".
Consigliato? Assolutamente sì.
#StaySafe

L'articolo potrebbe non essere aggiornato
Questo post è stato scritto più di 5 mesi fa, potrebbe non essere aggiornato. Per qualsiasi dubbio ti invito a lasciare un commento per chiedere ulteriori informazioni! :-)