Recita il sito web ufficiale: "Dism++ can be considered as a GUI frontend of DISM, but it is based on low-level Component Based Servicing (CBS) interface instead of DISM API or DISM Core API." e, in effetti, si tratta di un'interfaccia grafica che va a operare con strumenti che hai già a disposizione nel tuo sistema operativo (DISM / CBS), ma che probabilmente non sai utilizzare al massimo delle loro potenzialità e muovendoti con quel pelo di sicurezza in più che vorresti avere. Dism++ ti permette di operare le tue modifiche e i tuoi interventi in maniera più controllata e meglio spiegata.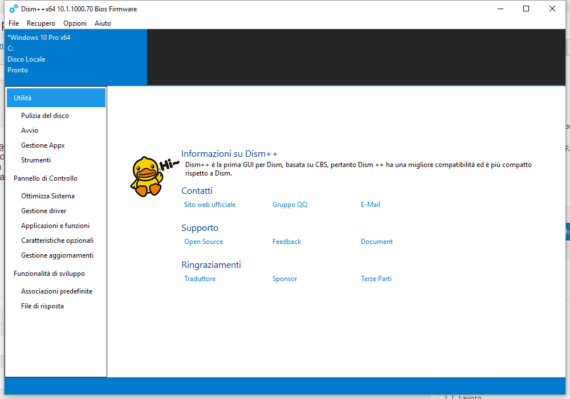 Dism++
Scaricabile gratuitamente e compatibile con sistemi Vista (!!), 7, 8.1 e 10 (qui il download diretto per 32 e 64 bit, da quel momento in poi il programma potrà aggiornarsi autonomamente su tua conferma senza necessità di andare a scaricare manualmente i nuovi pacchetti), Dism++ nasce come utility portable, senza necessità quindi di essere installata sul sistema che la ospita (comoda da avere a portata di mano su chiave USB o cartella Dropbox / di rete).
Una volta avviato, Dism++ ti permetterà di muoverti subito tra le voci di menu disponibili nella colonna di sinistra. Tra le più importanti sicuramente c'è quella relativa alla Pulizia disco per la rimozione di file di cui "puoi fare a meno", l'Avvio Automatico e i Servizi, la gestione delle User Appx / Provisioned Appx, le applicazioni installate da Store o passate in provisioning da Windows 10 alla creazione di un nuovo utente locale (cosa solitamente gestibile via PowerShell, non per tutti), e molto (ma molto) altro ancora, anche strumenti che non ti aspetteresti di trovare in un tool di questo tipo (come l'estrazione / creazione dei file ISO partendo dal contenitore ESD).
Nell'Ottimizzazione Sistema potrai invece trovare diverse opzioni per la modifica del comportamento del SO, anche voci particolarmente delicate diversamente intoccabili per un Sistema pensato come "AAS" (As A Service) da Microsoft. Puoi intervenire sul comportamento di Windows Update, ma anche sul riavvio automatico in caso di problemi (BSOD) o l'avvio rapido. Voci attentamente raccolte e organizzate per categoria, alle quali dovrai prestare particolare attenzione (e ti consiglio di evitare modifiche a meno che tu non sappia molto bene cosa stai andando a fare). Da qui in poi la scalata verso Driver (e possibile rimozione completa), gestione delle applicazioni o delle funzionalità installate (molto simile a quella visibile via Pannello di Controllo) e gestione degli aggiornamenti installati è cosa del tutto prevedibile e naturale (ma pericolosa in ogni caso, sempre occhi ben aperti e mouse non troppo a portata di clic).
Prima di concludere, un doveroso passaggio per le funzionalità di riparazione dirette di DISM (già previste da riga di comando e parzialmente anche da GUI di Windows 10), quelle che potrai trovare facendo clic sulla voce Recupero. È da qui che potrai facilmente lanciare la ricerca di errori operata da DISM ed eventualmente la riparazione completa dell'immagine di sistema, così come potrai effettuare un backup o un restore dello stato attuale della tua macchina, utile –magari– prima di operare modifiche che potrebbero mettere a rischio la tua postazione, il tutto sfruttando comandi sempre disponibili da riga di comando, di cui spesso si ignora l'esistenza, o con i quali non ci si vuole mettere alla prova.
Lo avrai capito: Dism++ è un coltellino svizzero dall'indubbia utilità, che può davvero renderti la vita più facile e salvarti in situazioni critiche, ma che –come ogni lama– porta sempre con sé quel rischio intrinseco di un taglio non previsto, nonostante tutta l'attenzione dedicata alle operazioni lanciate. Tienilo a portata di mano e leggi attentamente le informazioni che ti presenterà davanti agli occhi e, nel caso non dovesse farlo, cerca in rete consigli e documentazioni che possano meglio esplicarti pro e contro di ogni operazione che vuoi portare a termine.
Buon lavoro.
---
In caso di problemi con il download del pacchetto ufficiale, puoi salvarne una copia prendendola dal mio account Box, che ospita la versione 10.1.1000.70 (CbsHost 10.1.1000.62, NCleaner 10.1.1000.62, WimGAPI 10.0.17134.1, disponibile all'URL app.box.com/s/0661r8e09hmmbtzxkm2iwf0sc63hi6am.
L'articolo potrebbe non essere aggiornato
Questo post è stato scritto più di 5 mesi fa, potrebbe non essere aggiornato. Per qualsiasi dubbio ti invito a lasciare un commento per chiedere ulteriori informazioni! :-)